The Team
The TimeFinders Team has an eclectic skill base which brings many years of practical problem solving expertise and a richness, diversity and creativity to the way we work.
Alison Hesketh:


Managing Director & Founder
Before creating TimeFinders, Alison spent over 25 years as a charity trouble-shooter, jumping into small and medium-sized charities in crisis as Acting CEO to sort out whatever trouble they found themselves in.  A natural project manager, advocate and mediator, Alison supported many charities in the health, welfare and scientific sector bringing calm to the chaos of crisis.
Having supported her mother through the process of downsizing and settling into a new community, Alison continued to work for the voluntary sector before taking a break to support her mother in her final illness.  After her death, Alison was asked by a good friend to support his own parent to move to somewhere more manageable and realised that there was a pressing need for this type of service.  TimeFinders is the result.

Alison is particularly proud to have been invited to be a member of The Leaders Council of Great Britain and Northern Ireland as "an individual who can make a genuine difference to the future of their industry" and has "the requisite depth of understanding to effectively inform the nation's key policy makers.".   She is passionate about enabling older members of our society to have their voices heard and their decisions respected and is honoured to be able to be a part of the national debate on ageing well.
It is a source of great joy that both her children have been inspired to join the company.

Helen Ferguson:
Client Services Manager &
TimeFinder Consultant – Thames Valley
Helen has over twenty years' experience of providing housing support for people who are also managing long term care needs. Planning development projects for Mencap, London based charities and housing associations has given her extensive knowledge to offer TimeFinders' clients who are in the process of managing changes.
Helen is the essence of the TimeFinders' philosophy – highly professional, experienced, practical and dedicated with an ever-smiling face and the warmth, compassion and humour to engage with the wide variety of characters and life experiences of our clients.

Kate Hesketh:

Director and Area Coordinator
Kate is truly multi-talented. She has impressive project management and administration skills combined with a deep natural empathy and ability to engage people. These qualities she successfully combines with a wide and varied range of interests which includes art history, Korean language, opera and theatre direction and acting. Alongside her work with TimeFinders, she is currently in her fourth year of a dual History of Art with Intensive Korean Language Masters Degree at SOAS. She can often also be found working as an expert tour guide at the British Museum! Having spent a year teaching English in rural South Korea, Kate has direct experience of being an expat and this has brought her insights into some of the logistical difficulties facing our expat clients.

Diane Mitchell:
TimeFinder Consultant – London & SW
Diane came to TimeFinders with a wealth of experience, not only as an entrepreneur and businesswoman but also in the field of wellbeing, mindfulness and personal growth. Living in a variety of States in Australia for 16 years has given her a particular sympathy with expat clients and the challenges they face in relation to life, losses and loved ones not in reach. A new life stage brought Diane back to the UK, where she met Alison Hesketh and learned about TimeFinders. The story of the company and its ethos of person-centred, empowering support to those in need caught her attention immediately, and it was a natural and delighted choice for her to become enthusiastically involved. Working with the most vulnerable people requires the utmost in mutual trust. With her honest and straightforward Yorkshire manner, deep sense of integrity, great empathy and sensitivity, and a fabulous sense of humour, Diane is a natural.
Shannon Hall:


TimeFinder Consultant – Marlborough, W Berkshire & N Wiltshire
Shannon has joined TimeFinders with over 10 years of experience as an Intensive Care Nurse. Having spent most of her life in Southern California she is now a happy resident of England. It has always been Shannon's passion to help and support families and their loved ones through difficult and challenging times. Growing up extremely close with her grandparents, she has enormous respect and admiration for seniors. She is a good listener, patient and professional.
Outside of work, Shannon is passionate about exploring the British waterways via its rivers, canals, and oceans on her paddleboard.
Nick Hesketh:
Director of Growth and Finance
After completing his degree in Physics with a Year in Computer Science at the University of Birmingham, Nick began his career in technology as a Software Engineer in a cyber security consultancy. He quickly progressed to his longer-term role as a Scrum Master and then Agile Coach, naturally taking to these leadership roles thanks to his expertise in the Agile methodology. He joined TimeFinders from Vodafone UK in October 2020 with the determination to grow the company into its full potential. Nick specialises in effectively and efficiently running businesses with a focus empowering and enabling his colleagues to work at their best. Having been a peripheral part of TimeFinders since its inception over ten years ago, Nick is now building and driving TimeFinders' strategy for the future and turning the Directors' vision into reality.  

Philip Hesketh:
Director
Philip combines a busy and demanding schedule as a professional Conductor and Speaker with providing strategic support for TimeFinders. He has been instrumental in building the policies and procedures which protect and support our clients and their families as well as developing opportunities for extending our client services.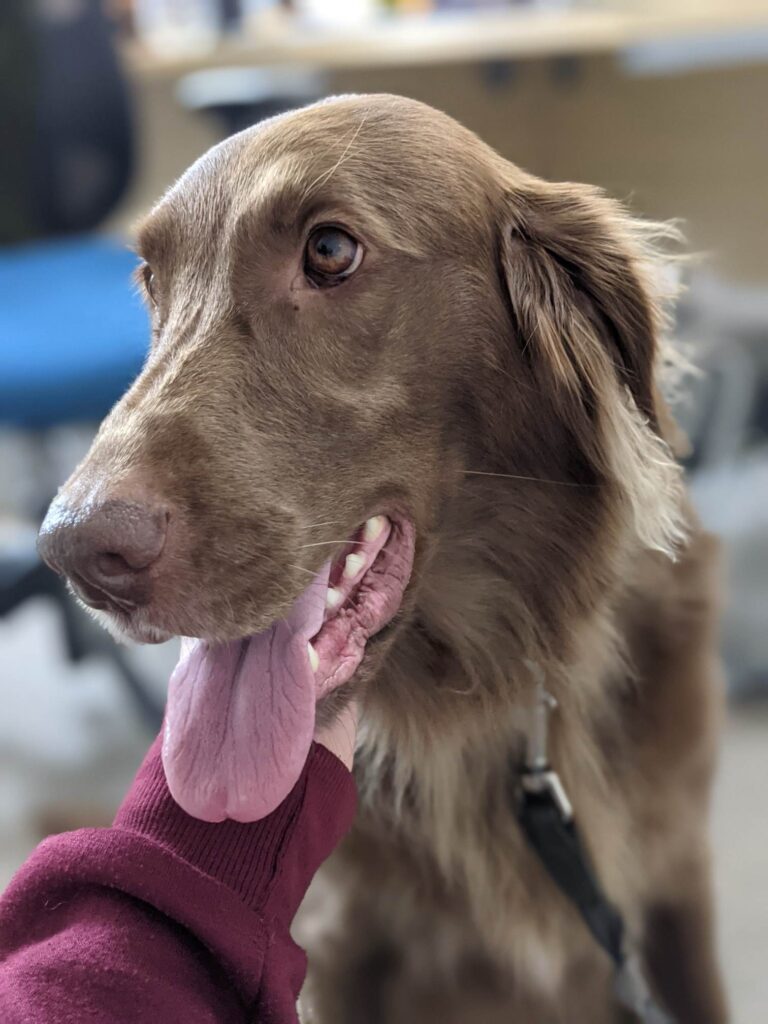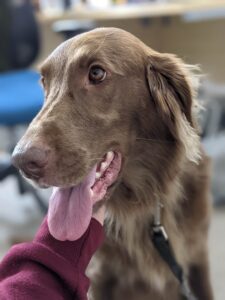 Lily:
Chief Happiness Officer
Lily has been developing her skills as Happiness Officer since being picked up by all five members of her family from Buckinghamshire.  From the very start, the poise and elegance of her 'sit' posture, combined with the wagginess of her tail marked her out as a rising star in the world of bringing happiness to humans everywhere.  It wasn't long until her uncanny ability to persuade various members of the family that she needed treats at any given moment was honed into an art form.  Since joining the TimeFinders team as a near-infant she has performed her role admirably, bringing moments of joy to every busy office afternoon.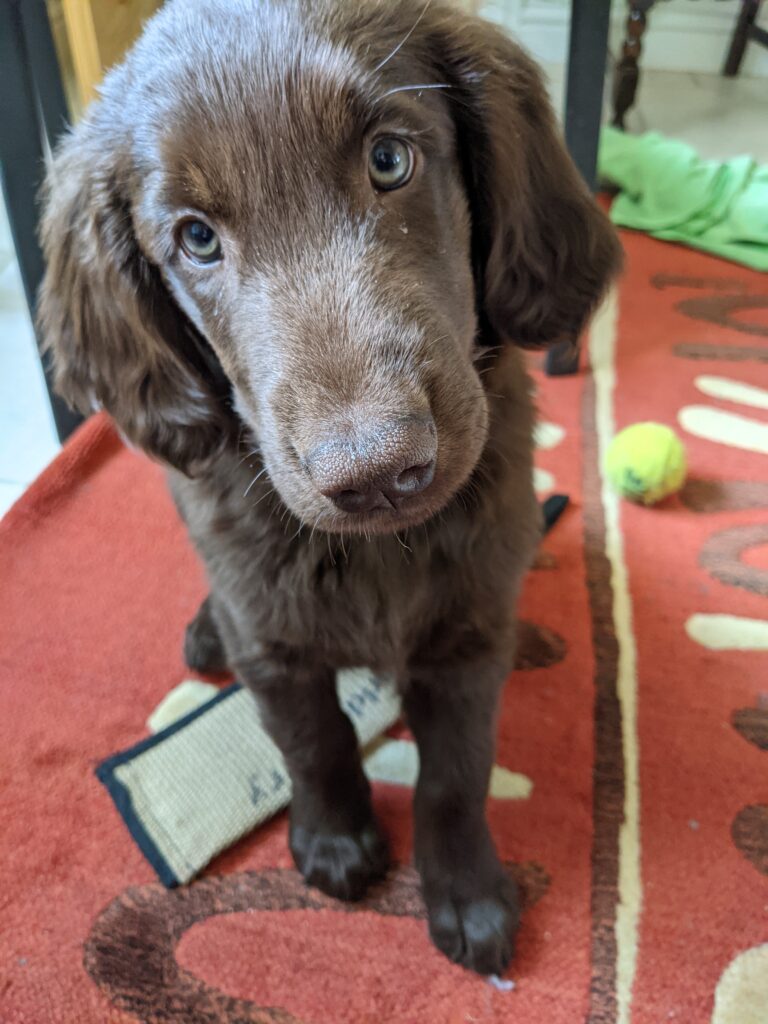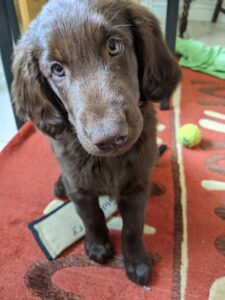 Chester:
Assistant Happiness Officer
Chester, the latest recruit to the TimeFinders Happiness Team, has made a most promising start. Under the tutelage of Lily, he is developing the necessary instincts for precisely when he is most needed by his humans. He still needs to curb a slight tendency to boisterousness when calm tranquillity might be preferable, and the less said about his insatiable appetite for socks and masks the better. However, his initial fluffiness is now transforming into a becoming silkiness and he is generally developing into a most impressive young man and an important member of the TimeFinders family.