The TimeFinders Continuing Support Service supports individuals and couples who are beginning to find the day-to-day management of their household administration a struggle and a worry.
So much paperwork comes through the door every day: bills to pay, statements to check, utility companies to deal with, insurance renewals, charity appeals, scams to avoid – the list is endless and can quickly become overwhelming. TimeFinders will help you deal with it all. We will also ensure that everything that needs to be kept is neatly filed, that paperwork needed for your solicitor, accountant or financial adviser etc. is ready for meetings and obsolete paperwork is securely destroyed. We act as a "sounding board" for many of our clients who need an independent expert with whom to discuss future plans and care needs.
Although originally designed especially for British Ex-Pats living abroad, the TimeFinders Oversight Service is also useful to families in the UK living at a distance from the Care Home in which their parent lives or who lead busy and demanding lives. This service was developed in response to a client living in America whose parents were unexpectedly thrown into crisis through serious ill health and the sudden deterioration of dementia. (Read Simon's Story for an example of how we can help). Supporting our clients through this crisis and ensuring that they continue to receive the highest possible quality of care made us realise that there was a great need for people who are caring at a distance to have an independent set of eyes and ears on hand to ensure that their parents and relatives are safe and happy. This is particularly the case when communication is made difficult owing to dementia or other serious illness.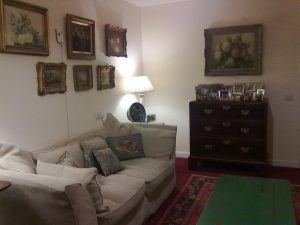 However wonderful the care home or the care at home, receiving regular independent reports on your relative's health and well-being provides an essential reassurance for any family member living at a distance. On the occasions when it is possible to visit, having a single point of contact who provides a co-ordinating intelligence in dealing with the myriad agencies and practical arrangements enables family members to spend more precious time with their parent or relative. Having a dedicated TimeFinder as an emergency point of contact means that should your relative have to go into hospital, for example, we can liaise directly and in person with the medical staff.  This can save a relative a wasted journey to be with their parent in hospital, only to find after a lengthy flight or drive that their parent is happily sitting back at home having been discharged. TimeFinders is on hand as an experienced Advocate and expert to ensure that your parent or relative is well cared for, safe and happy and at the end of life, to help you with all the practical arrangements as well as to support you at this time of grief.
Testimonials
"I often sit here [in the USA] and ask myself how I could have done this without your help…simple answer is that I couldn't. You have NO idea how much you have helped me…you are my hands, eyes, support and "go to" person. Truly I am grateful and lucky to have met you."

SF USA 2013
"Knowing that you are there for mother when I am nearly 5000 miles away is such a relief. Thank you."

IM Canada 2014
"Thanks once again for your great kindness and consideration. May God bless your excellent work."

VO – Cheshire 2016